The Difference Between Botox And Fillers
How well do you know your cosmetic injectables?!
When it comes to addressing fine lines and wrinkles, there are a few non-surgical and temporary treatments that provide excellent results — cosmetic injectables! And while Botox still holds the top spot, dermal fillers have become a popular choice for crow's feet, forehead wrinkles, smile lines, and more.
When it comes to cosmetic injectables, which one — Botox or dermal fillers — are right for you, and what are the differences? Explore cosmetic injectables with Germantown Aesthetics in today's post.
Dermal fillers are composed of a variety of substances of both permanent and temporary materials that combat fine lines and wrinkles, and are injected just beneath the skin. From Juvederm and Restylane to Belotero and Radiesse, dermal fillers work on different lines and differently than Botox.
What's In Dermal Fillers?
Dermal fillers generally can be found with a variety of thicknesses of hyaluronic acid, in addition to dermal fillers composed of calcium hydroxyapatite (HA).
Hyaluronic dermal fillers can last anywhere between 5 to 24 months, whereas calcium hydroxyapatite is great for deep wrinkles and can last upwards of 12 to 14 months.
Dermal fillers are great for the following fine lines and wrinkles:
Sleep Wrinkles
Lip Lines
Laugh Lines
Nose Correction
Behind Hyaluronic Acid
People often choose dermal fillers because they're made from natural ingredients such as hyaluronic acid, which is a naturally occurring substance found within our bodies. It's wonderful for fine lines and wrinkles because it's a natural lubricant and skin plumper.

Botox is the brand name form of the neurotoxin Clostridium botulinum and is implemented into crow's feet, frown lines, and in between the eyebrows. Botox is a very well-diluted form of the toxin, that instead of "filling" lines and wrinkles, it cuts the connection between the nerve and neurotransmitters in your facial muscles and temporarily freezes or paralyzes it.
Botox works well for the following:
Forehead Lines
Furrow Lines
Crow's Feet
The best Botox treatment is provided by a professional who can expertly administer the perfect dosage of Botox that mitigates fine lines and wrinkles while preserving a natural expression. If you end up expressionless, too much Botox has been administered.
Which Injectable Should You Get?
The simplest way to determine what cosmetic injectable is ideal for your fine lines and wrinkles is if they're related to lines of expression. If they are, Botox will work beautifully, while dermal fillers are wonderful at treating deep lines that are visible even when the muscles aren't contracted.
Dermal fillers are also excellent for increasing volume in the lips, cheeks, and chin, in addition to acne scars.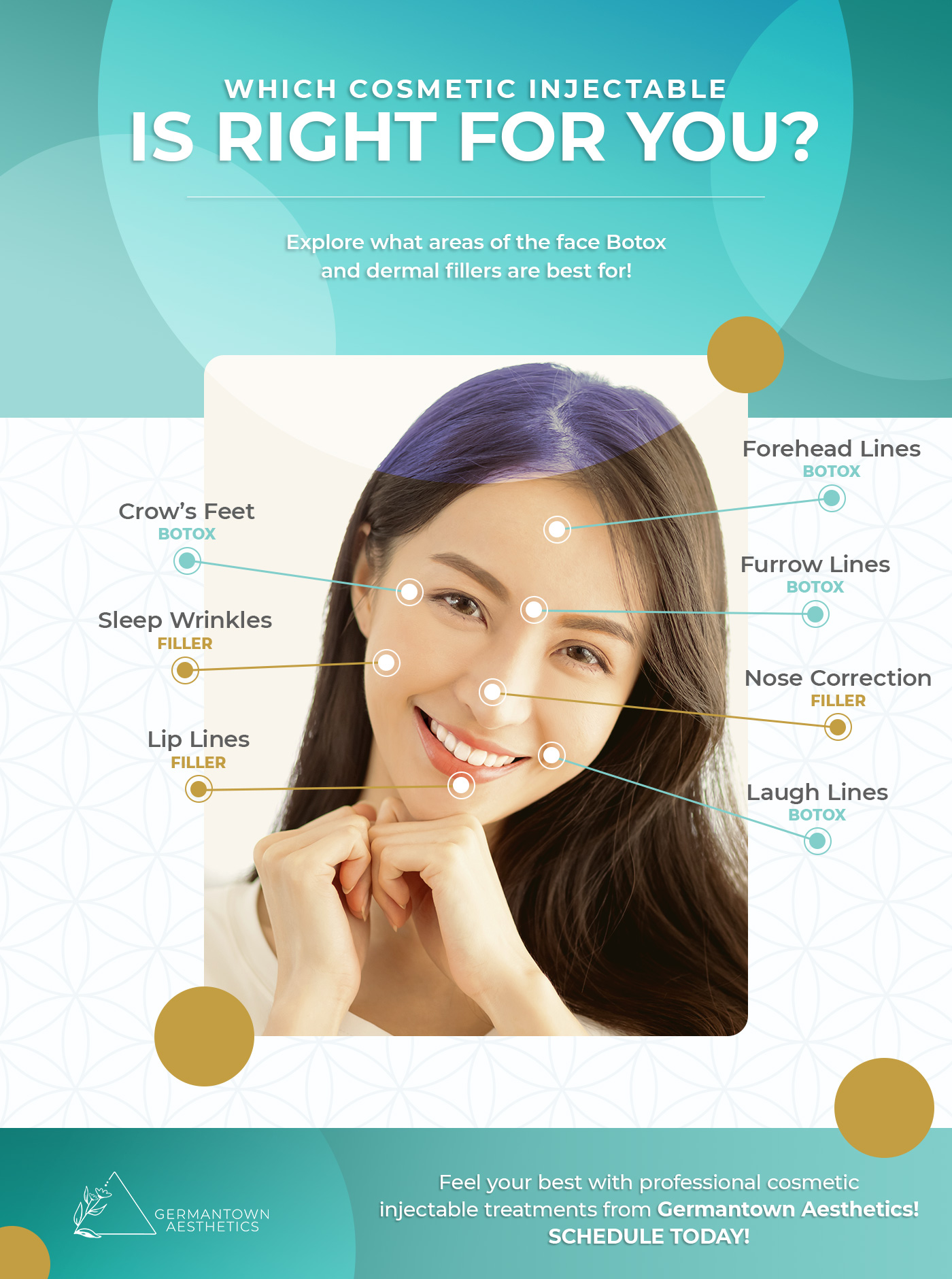 Embrace Cosmetic Injectables With Germantown Aesthetics Today!
Whether you're looking for Botox or a dermal filler, Germantown Aesthetics knows cosmetic injectables! When you work with us to improve your fine lines and wrinkles, you'll get a team that takes an individualized and multimodal approach.
Each provider is expertly trained and certified to administer cosmetic injectables for the best results.