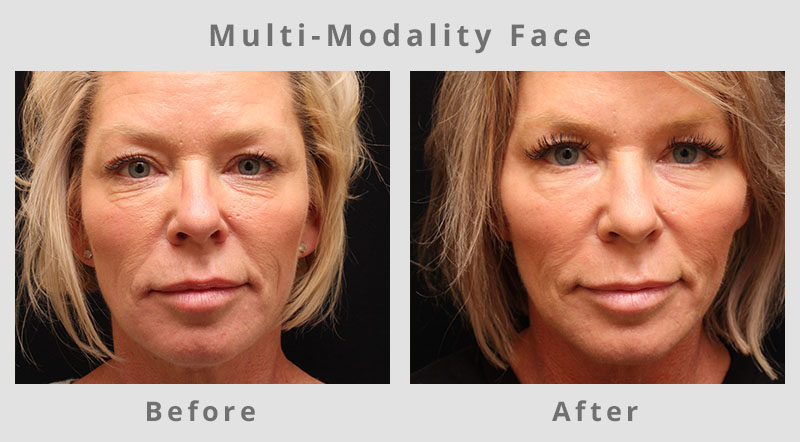 Dr. A / Multi-Modality Face
"I think the biggest thing is to do it for yourself. How you feel about yourself is more important than anything else," advises Dr. A, a chiropractor and mother, about her experience with Germantown Aesthetics.
Dr. A became inspired to improve her appearance after watching a family member get Botox as a preventative treatment. In her line of work, she is involved in a lot of health and wellness and wanted to present herself better. Fortunately, Dr. A won a prize that had been donated by Dr. Laurence at a Christmas party! She knew instantly that she wanted to try different procedures.
The procedures Dr. A has done with Germantown Aesthetics include: dermal fillers, Vampire Facial, Botox, chemical peels, laser procedures, oxygen facial, and a fat transfer. Dr. A suffered an accident in which part of her face had been scraped. Dr. Laurence advised her about some different aesthetic options, including keeping the scarring moist with a copper peptide ointment and having Vampire Facials. She followed his advice and is so pleased how this combination has dramatically improved her scar damage!
Dr. A says she doesn't feel like people's perceptions of her have changed since having aesthetic procedures done. In fact, most people have been supportive of her decision. "They really are very subtle and natural. People can't necessarily tell I've had the procedure done," she states. She often goes right back to work following the procedure and carries on like normal. "Dr. Laurence has done some big procedures. I adore Anna and have had no bruising from the Botox and everything has been great. Go in for a consultation and they will put you at ease and make you feel comfortable."
When asked what her favorite procedure is, Dr. A says definitely the Vampire Facial. "Your skin feels tighter and glows," she recalls.
Dr. A says that maintenance is huge. She tries to go in yearly, but also strongly suggests asking what else they would recommend. "Prevention is way better than having to be reactive. You will feel better after the procedures," she assures.
"I feel pretty damn good," says Dr. A. "The procedures help with confidence. When I look in the mirror, I am happy. It makes me feel better and that carries over to my everyday life and interactions with people. I'm so happy with my results!"