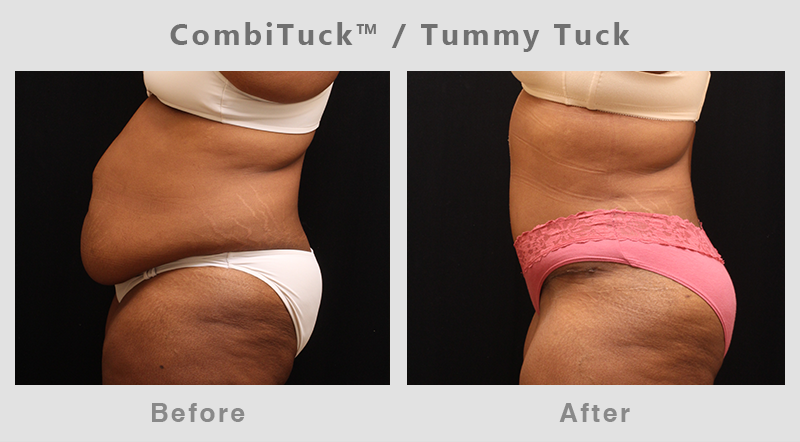 Ms. V-CombiTuck/ Tummy Tuck
Ms. V, a 45 year old mom of two, was working on her weight-loss journey with her nutritionist when she was first introduced to the idea of a CombiTuck. Ms. V talked to her nutritionist about her stubborn belly fat, how it made her feel like her clothes didn't agree with her, and how she felt self-conscious all the time, wearing jackets to camouflage her midsection. 
After her nutritionist mentioned a CombiTuck with Dr. Laurence, Ms. V went in for a consultation. "I felt welcome at Germantown Aesthetics. As an African-American, I sometimes feel uncomfortable with white medical professionals, but that was not the case here. The entire staff were genuine and very concerned about my well-being throughout the entire process," she said.
About nine months into Ms. V's weight loss journey with her nutritionist, she was ready to undergo her CombiTuck procedure. Before the surgery, Ms. V said she felt anxious but was more excited to see the results! "I was excited to see my beach body!" she remembers.
Two weeks after surgery, Ms. V was able to sleep well and was taking her post-op medications as recommended. The staff, especially Carolina, who she regularly sees for her follow ups, made her feel relaxed and light-hearted during her visits and her healing process. 
Right now, four months post-op, Ms. V feels amazing. She says, "I didn't have to make additional major lifestyle changes since I was already following a healthier nutrition plan, but I do lift weights now. Not because of the surgery, but because I'd like to keep active and keep the weight off. My clothes fit differently - much better! - and my husband is following me around like a puppy!"
"I wish I had done this earlier so that I could have worn a bikini after delivering two children. If I had to redo it again, I would set aside a fund and add to it regularly to plan for surgery. To those who are thinking about getting surgery, I would say research it, watch videos, learn what to expect and why the body feels that way. Know what you're getting yourself into. I would definitely recommend Germantown Aesthetics to anyone who needs a cosmetic procedure, especially a CombiTuck. They're great!"